Mary Mirinda Landon
McEwen Tartan, modern Version
Mcewen and Landon Mini-Genealogies
Verbal History
This is a compilation of several versions of the stories passed down through our family. Where the information came from somewhere else besides family stories and traditions, as from a website, I've done my best to give credit to the source. To go to a specific source's website, click on the author's name in the body of this piece. (If the source is not a website, this link will send you to my Resources page.) See this page for full references, including some which are not cited here but were still helpful in my research.
Landon-Mcewen Background
There are several names that reoccur in family stories (Buell) about Landon history. The first, of course, is my grandmother, Mary Landon McCutchen, but I'll keep her for last since we know the most about her. We have only limited knowledge about the others. With some I haven't even been able to prove a relationship, but the stories are there and part of our heritage, so I've included them here.
Charlie C. Landon. This is a man the family always considered a relative of Mary's, and who was at least partially responsible for her family's move to Yacolt. Some have said he was her brother, but none of the Landon genealogies (Skinner) show a brother named Charles. My suspicion is that he was a cousin although I've not been able to find his name anywhere before Yacolt. Yacolt newspaper articles show that traveled from Boston to Washington state on an emigrant train car, coupled to the end of a freight train. It took him 10 days to make the trip. He may have been in the Yacolt area as early as 1892. (Claus)

He applied for a homestead in 1895, only a year before JM and Mary applied. (BLM) After it was proved up in 1900, Charlie plotted out 16 lots on his land which became downtown Yacolt. (Stout) Charlie was married, according to the 1930 census, (NARA) to a Catherine whose parents came from Ireland, but he never had children. He lived in Yacolt until his death at the age of 99 in 1953. (Stout) Charlie knew the McCutchens because he wrote to them in Elko and told them of the forest-covered mountains, the verdant prairies and the flowing streams, and did his best to lure them to the area. Mary and JM left Elko not long after Charlie arrived in Yacolt, but it took them nearly 3 years to make the trip and Yacolt was only one of several destinations they were considering when they left Elko. See Trip from Elko to Yacolt .


Charles C. Landon, 1854 to 1953 (

Claus

)



William Joseph Landon. Born 1863, Willie was Mary's youngest brother. (Skinner) He was a silver burnisher in Greenfield, Mass. before he went west looking for his sister in Elko. (Willie) Mary's records show he worked for the McCutchens in Elko for a couple of years. (McCutchen, 1882) Eventually he left and went further West to Yacolt. He may have left Elko about the same time his sister did, in 1892, but if so, he went directly to Yacolt instead of taking the time the McCutchens did. His name appears in Yacolt school records (Yacolt) in 1893-4 while the McCutchens were still on the road. In 1912, Willie obtained title to land in Okanogan County (near Wenatchee, WA). (BLM) For at least a year, he raised hops there. (Landon, 1914). Click here to learn more about this adventure. We have two photos of Willie, each with a different woman, one named Annie and the other, Edith but we don't know his wife's name. Click here to see photos and more. We do know that he had a son named Hugh, who lived in Yacolt and whose children played with my older siblings (George's children) (McCutchen, R).
| | |
| --- | --- |
| | Charlana Maria Landon. Mary's younger sister. (Skinner). Married to Moorehouse. (VHM) No other information is known about her, except that she was Mary's only living full sister. Their father remarried after Mary was grown (and Charlana was about 10) and had several more children. The photo here is of Charlana and her husband and is no doubt, one sent to her her sister, Mary, at the time of her wedding. Note Charlana's small size. Mary also was a very small woman, standing 4'11" tall and weighing 95 pounds when she married. |
Alf Landon, (who ran for President in 1937). I grew up hearing that this unsuccessful candidate was a relative of some sort. By utilizing a couple of internet sources and comparing information, I think that Mary's father and Alf may have been 3rd cousins. That is they may have had the same great-grandfather. (Skinner)
George Mcewen. Probably theMcewen relative of Mary Landon's who was reported to have been engaged in a political revolution (in Scotland?). He just made the boat to America ahead of the law. His property was confiscated, and he was exiled. Another story has Mcewen as a settler in Jamestown,VA, "only a couple of years after it had been established". However, I have not found anything to verify this and much to discredit it. For example, places and dates which place the first known American Mcewen ancestor in Vermont in the mid 1700's and the lack of stories in McEwen history about such a well known historical time. (FTS)
Mary Mirinda Landon (1855-1922)
Although Mary was seventh of 11 children, many died young. Mary's young childhood had to have been traumatic. Between ages 5 and 7, she lost two older siblings and a two-year-old sister. Also during this time, her mother had two more children born less than a year apart. Mary was still 7 when her mother died, leaving Mary, two older brothers ( Crandall and Leslie), three younger siblings, (Alson Hoyt and baby Charlana, and a newborn brother, Willie).
The Civil war was in full force during this time and in 1864, when Mary was 9, she lost another brother, Crandall. A private in the 1st Vermont Artillery, he was killed in Washington D.C, in 1864, not long before the war ended. Mary's father remarried in 1865, but her stepmother died only a few months after they were married. Her father married again when Mary was 18, (Skinner) freeing up Mary to attend Teachers Academy with her dear friend, Sally Seibiet. This stepmother proved healthier than the first. Mary was presented with a baby sister a year after her father's marriage and another a couple of years later. (Skinner)
By the same time her second half-sister was born, Mary had finished college and was back in Hinesburg, teaching. She was required to teach a certain amount of time before she received her teaching certificate. (Teaching students now do their student teaching while still in school, but Mary did hers after she finished the didactic portion of her training.). She taught in Hinesburg long enough to earn her certificate (probably a couple of years). Then, in August of 1878, at the age of 23, unmarried and more free of responsibilities than she'd been since she was 7 years old, she signed up to teach "Out West". Her father and stepmother had 4 more children after she left and all 6 children of their children apparently lived to adulthood. (Skinner) One can speculate as to why Mary was still unmarried at 23, but there are no family stories to tell us. Perhaps after having been mother-protem for most of her childhood and having experienced the grief of loosing so many family members, including her mother, so early in life, she had decided not to marry?
Mary's teaching contract paid for her train trip west and promised her $25 a month and her room and board. However, it only promised 3 months work. The rest of the time, she'd have to earn her living another way or live on her savings. Since her room and board was free, this was a more than fair offer. When Mary left her family home in Hinesburg, VT, and took a train to Kansas City, MO, she stood 4'11" tall, weighed 95 pounds, and her only companion was Sally Seibiet (later Coldwell) , who had attended the academy with her. Mary took a small journal with her but she used it mostly to record occasional expenses.(McCutchen, 1882) She also collected some autographs of her fellow passengers, including a B. Frank Merril of Amhurst, NH, a Mrs. A.W. Pringle of St. Albans, Fremont, a Mrs. Charles Day of York, Nebraska, a Samual Pickwell of Beaut City, CA and a long encouraging note from a Walter Swift of Marysville, CA. A Mrs. Debra Achrmbeau from (or going to) San Francisco, said she hoped Mary would remember their Ride in the Engine.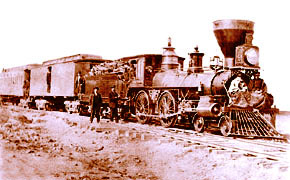 1869 photo of train similar to the one Mary rode from Vermont to Nevada.
Larger View
In Kansas City, the women were assigned to schools in the west. The Central Pacific Railway was about 10 years old and there was a stop in Elko. (CPRR) Mary went to Elko, NV and her friend, Sally, went to Montana. They traveled together to far Elko where Mary got off and Sally continued on alone to Montana. She traveled on an emigrant train from Missouri. These were a 'modern' version of the covered wagon train but pulled by engines similar to the one shown. The emigrants brought their animals, machinery, furniture and household goods, as well as their families. They also brought food and bedding to use on the way. See (CPRR-1) Mary, with no family, didn't bring household goods or furniture, but she did bring many lovely dresses; city dresses from Vermont, that she found unsuitable for the little whistlestop town in the Nevada desert. She kept the dresses packed in her trunk for years and looked at them once in a while to remind her of the rest of the world.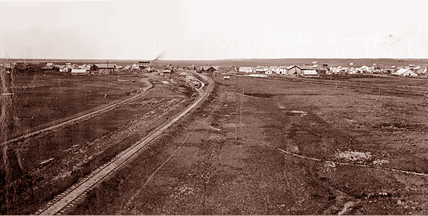 An unnamed stop on the Union Pacific line. Elko would have been similar to this when Mary arrived there.
In Kansas City, the Mary and Sally were assigned to schools in the west. The Central Pacific Railway was about 10 years old (CPRR) and there was a stop in Elko where Mary had been assigned. Mary and her friend, Sally traveled together to Elko where Mary got off and Sally continued on alone to Montana, where she had been assigned. From Missouri, they traveled on an emigrant train. These were a 'modern' version of the covered wagon train but pulled by engines, usually at the end of a line of freight cars.
The emigrants brought their animals, machinery, furniture and household goods, and it all was crowded into the cars with the emigrants and their families, along with food and bedding to use on the way. (CPRR-2) Mary, with no family, didn't bring household goods or furniture, but she did bring many lovely dresses; city dresses from Vermont, that she found unsuitable for the little whistle-stop town in the Nevada desert. She kept the dresses packed in her trunk for years and looked at them once in a while to remind her of the rest of the world.
When Mary arrived in Elko, in August of 1878, (McCutchen, 1882) she was happy to find that school there lasted for 6 rather than 3 months. Nevertheless, she and another young woman she met in Elko went into partnership soon after she arrived. They started a small millinery business to earn a bit of extra money. (Mary's sketchy records do not show that it was very successful!) Mary boarded with various families while teaching. The mother in one of the families was Mrs. Sid (Mary Jane) Roberson, the sister of James Monroe (JM) McCutchen (Turner) . JM was a teamster who freighted goods between Montana, Missouri and Nevada. (See JM McCutchen for more about him.) They met at the Robersons and began courting. She was 23 and he was 44.
Some children whose last name was Wear also attended Mary's school. Their mother, Lousia Ann, was another of JM's sisters. (Turner) She became ill and died, leaving her husband with 4 children, the youngest of which was only 4. (LDS) Grief stricken, he asked his wife's family to take the children while he worked. He'd worked with JM as a teamster before he became a rancher near Elko and that is what he probably returned to doing.
JM and Mary had likely planned to wait until the school year was over to be married, but with the Wear children needing a home and his sister, Mary Jane's home already crowded, they didn't wait. On February 2, 1880, they were married, (20) and once again, Mary had a ready-made family. (NV- BVR) Eventually, the children moved to Montana where they had an older sister. This is where they married and raised their children. (19) Mary finished out the school year, and it was more than 10 years before she taught school again.
Within a year, Mary had her first child, William Landon. (Turner) In 1990, she had her last child, a girl who lived only a couple of weeks. (Agin, Swett) All the children were born in or near Elko, NV. (Turner) Not long after the last child was born, they sold their ranch and moved West. It took the family almost 3 years to get from Elko to Yacolt, where JM homesteaded land. (McCutchen, 1882) While they were traveling, Mary insisted that the family stop every winter so the children could go to school. JM and Mary were married for 43 years, until he died on his 88th birthday, in 1922. She lived only 2 more years, dying in 1924, at the age of 69. (Bodewig)
Mary was a housewife-rancher's wife for all of her marriage. She may have taught her children while they were on their 3 year trip to Yacolt and she did teach school for a term after they arrived. (Stout) The family moved into the schoolhouse for the winter and Mary taught in her living room in lieu of paying rent. Her early teaching career made her a strong advocate for education and the family was active in school politics in Yacolt. (Yacolt) She took an active part in the family businesses and her records (McCutchen, 1882, 1896, 1922) show that she was often the bookkeeper. She enjoyed adventure as much as her husband did and continued to find new things to do all her life. Her grandchildren remember her creativity and tell of the handiwork patterns she developed and shared with others in her later years. Her records still show a few of these.(McCutchen, 1882, 1896, 1922)
The next segment of the McCutchen saga is about their life together in Elko Nevada. For more about their children, go Elko and to their own pages: William, George, Ed, Walt, Avie, Alson, Cal, Charlana.